What an irony of words. Have a happy Memorial Day? Happy times of thinking of those who have sacrificed their lives, their bodies, their minds for our freedom that people take advantage of daily? Hmmm...Is it just me or does it seem weird that people take this weekend to have BBQs and parties and get drunk and all....Or is it nice that we can be optimistic and celebrate even the worst of times? I have no clue. I'm actually in one of my thinking days though. We're BBQing ribs in my crock pot today, LoL.
It's raining buckets which is fantastic! My flower bed is parched! No matter how much or how often I water it, the dirt is dry always. Must be because I'm the first person to touch it in 10 years. Hmm...Well my husband bought me all kinds of gardening tools and helped me finish the weeding on it. I have since planted my hollyhocks and two pretty flowers that I forgot the names of already, LoL. But they're at least gorgeous! I also felt ambitious and planted two strawberry plants as well but in another corner of the area. One is already starting to grow berries, Yay! I'm soo getting more plants! I adore this whole planting things and reaping yummy food! Haha.
My husband gets today off so we're planning on heading up to Sears in Minot to pick up our new BBQ grill that my dad bought. Man craves meat burnt from an artificial fire so he goes and buys a BBQ grill. Hmm...Men...LoL. That's fine, it means no cooking on my part. I can work with that one, Lol!
Two more weeks until Abel goes to Minneapolis for another session of class for the railroad. Actually this time he is taking his big conductor test. He's been studying and taking practice tests online and has been doing well so far on those so I pray he passes this big one. He's going to be gone for our anniversary so I and Hannah are taking off one weekend to go see him and spend a few days with him. Mall of America here we come! LoL. And I'm hoping I can meet the infamous Gucci Mama herself finally!
Speaking of my fairy godmother and angel in disguise....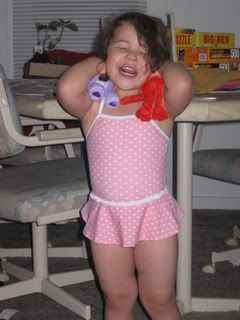 What in the world is my daughter doing you ask? Well Stephanie generously donated some of her maternity clothes to my pregnancy and lack of clothes case. But instead of getting one package in the mail (that I hadn't been expecting so soon!) we received two! One was for Hannah herself with a beautiful card (that she has in her room and enjoys me reading at least twice a day) a super adorable bathing suit (that she insisted on wearing all stinking day! LoL) and a care bear and Elmo doll (that both have kicked out our favorite dolly in bed). Elmo goes everywhere with us now and she was super excited to have gotten goodies for her very own! She also got some chalk and now spends everyday outside while mommy is gardening she draws! Which I adore greatly because before she enjoyed running off on me and I never really got to garden. I hope the picture shows her excitement as it was right after she got the gifts. I on the other hand won't be modeling the beautiful clothes just yet. I'm going through a "OMG my butt is HUGE!" stage of life and the clothes are too gorgeous to wear around the house just yet, LoL. I read in one of the many books of pregnancy that pregnant women should never ever look in a mirror. I hit that stage and should have listened....
So a huge thank you to miss Stephanie! We won't go into details about how I sobbed while reading your card and then have placed it in a frame above my computer desk and tear up every time I glance at it. But the clothes are absolutely beautiful, fit perfectly and minus the fat a** I'm dragging behind me, they actually are the first pieces of clothes to look decent on me. LoL. Who would've guessed...
To everyone else, thank you for reading my blabbering nonsense all the time and I hope you've had a great weekend and continue enjoying this extra day off! Here's to frying dead pieces of meat slobbered with BBQ sauce and enjoying time with friends and family! Lots of love!
*Beckie*