Appreciation. It's not that hard of a thing. When I was younger, I forgot to say thank you to one of my mother's girl-friends after she took me to the movies and she got angry. So angry that she shook the piss out of me and yelled in my face about what an ungrateful little brat I was. I've always been a shy, well behaved person. That incident turned me partly into who I am today. Why? I hate to make people angry. I don't say anything to anyone about how I feel or if they upset me, because I don't want to anger them or upset them. And yes, I hate receiving gifts from people because of this. I feel guilty when people give me things. All my life I have viewed myself as not good enough. As ungrateful. It's ridiculous how one little event can create such a mess of a person.
Why this little glimpse into myself today? Because today I have realized that I am under appreciated and deserve a little bit more.
Abel loves lasagna. Could eat it every meal, every day, all year long, kind of love. Abel wishes I would make it more often. I hate lasagna. Used to like it before I met him. Hate it now. I hate making it and yes, I have even grown to hate it's taste. Why? Because my lasagna is not as good as his mother's. So childish I know. But it upsets me. And today I let him have it.
Yesterday was a horrible day for me. I don't know why but I felt like crying at the drop of a hat. I snapped at everyone and even snuggling Ignacio and watching him smile couldn't get me to even a grin. That. Never. Happens. So at 9, I put both kids to bed and crawled into my fluffy pj's, denied my husband and went to sleep as fast as possible. Abel got yelled at yesterday morning because Ignacio had woken up fussing, I was still sleeping and he was laying in bed watching TV and not getting up to do anything for Ignacio. I snapped and it went from there. Well, this morning I woke up at 9 am realizing how late it was, went to check on my son and he was gone! Turns out my husband had gotten up an hour beforehand and taken my son down with him. Something must have been eating at his conscience...
He asked me why I didn't make lasagna often. That he was glad I had made it yesterday. So, Beckie, for the first time ever, let someone have it without any tears of frustration or hiding behind anything. I hate making it and hate that I hate making it. I used to enjoy making it for him but every single time I make it, the first words out of his mouth are "It's not as good as my mom's but it's okay." I'm tired of having my stuff compared to his mother and if he wants food like his mother's then he needs to go back with his mom. I feel better now and was really glad that it didn't start a fight and that he apologized and it was over with just like that. I feel so much better about it and that's what counts. And I'm learning that I no longer need to hurt myself by sheltering others, if I am upset well then dang it, I'm letting you know. LoL.
On a much brighter note. I received my awesome Valentine's box from Amity. Tell me how awesome it is to sign up for a Valentine's Day exchange and end up with your best friend as your partner?? LoL. I definitely got very lucky and blessed! So our box came:( address has been blurred to protect my identity)
And inside were these:
Which were these:
As we opened them we got to find a awesome cheerful new apron which will save my shirts lives from now on :)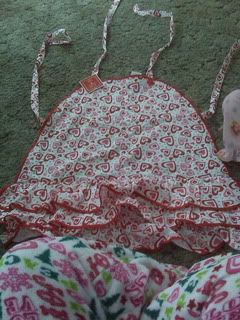 And a hilarious new book which I will DEFINITELY be reading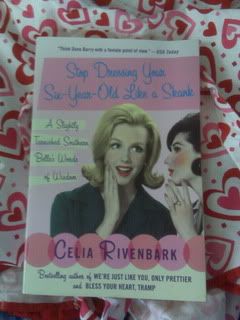 And some yummy homemade goodies which I would love to know how to make myself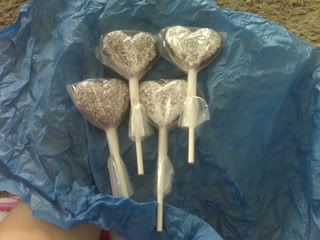 And some pretties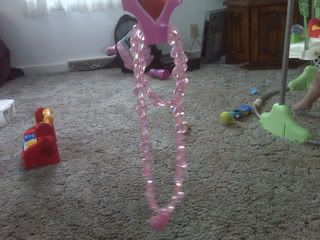 for my pretty
And a handsome new hoodie for the boy as well.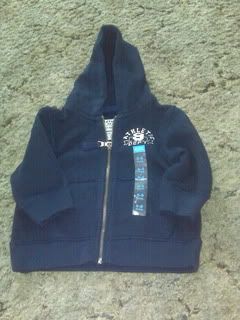 Amity also sent some new clothes for my pretty and I would love to take a few photos like this one
But sadly she stole them all and is playing dress up because she can't decide what to wear today, LoL. So that was my wonderful Valentine's surprise :) So come tomorrow (pay check day!!) I get to send off a box for her and her pretties (and handsome man too) and wait to see how she enjoyed them too :) I love exchanges :)
So with all this said pardon the picture quality, I sacrificed my digital camera batteries for my pretty's leapfrog computer thingy and need more, so you'll have to settle for my Blackberry camera quality :) I'm off to fix some dinner and change little man now. I hope everyone had a fabulous day and I will venture on here again. Another day! Ciao bellas!